Erin Cross -- Blessed Assurance
Price: $15.95
Product#: AP1007CD
Format: CD
Released: 2008
Label: Erin Cross
Description: Harp Music
Total Playing Time: 74:47

---
About Erin Cross:
Hello, My name is Erin Cross...I was saved when I was about 12 years old, and I was home-schooled for most of my school years. The Lord used a Bible teacher on a home school video program, that I was using at the time, to show me my need for Him. The Lord convicted and showed me that I was a sinner, and that I was lost without Him. He also showed me my need to confess and repent of my sins and to trust in the blood of Jesus as the only way to salvation in Him. I repented of my sins, trusted in the blood of Christ as payment for my sin, and surrendered my life to the Lord Jesus. I now desire to walk with Jesus and to follow Him at any cost in my life.
Since I have been born again, the Lord has been faithful to lead and guide me in my walk with Him as I look to Him. It is because of what Jesus has done for me in saving my soul, and because He lives in my heart, that I have a reason to play and sing. I desire to honor the Lord with the music that I play and sing. Because of this, I play only sacred music on the harp and other instruments that I play.
I have been playing the harp for 8 years now (as of August 2006). I have played my harps in several weddings, church services, Christian family homes, and assisted living and nursing homes. My desire is to bless and minister to others with the gift that the Lord has given to me. I desire to continue with this harp ministry in the future as well.
...I am the oldest of seven children. I am thankful to have been raised in a Christian home. Our family has attended, for the most part, conservative Baptist churches during my growing up years.
---
The message inside the CD cover reads...
Blessed Assurance
"Blessed Assurance, Jesus is mine! O what a foretaste of glory divine! Heir of salvation, purchase of god, Born of His Spirit, washed in His blood. This is my story, this is my song, Praising my Savior all the day long: This is my story, this is my song. Praising my Savior all the day long!"
I have chosen this beloved hymn, "Blessed Assurance", as the title for this recording because it clearly and beautifully describes the joy and praise that is expected from the heart of a person who has truly been born of the Spirit of God! Such is my story - praise be unto Jesus! This hymn was written by the blind poet and songwriter, Fanny Crosby. Despite her physical blindness in life, the Lord gave Fanny "a story and a song" to sing and write about which she expressed through the many beautiful hymns that she wrote throughout her life. I have included several of her hymns on this recording as well as many other precious hymns of the faith which speak of the marvelous love that God has for each one of us - God the Father, sending His very own Son Jesus to die in our place to be atoning sacrifice (Payment) for our sins. God desires to have a relationship with each one of us, but because of our sin, this fellowship has been broken. God now offers salvation full and free to all those who repent of their sins, put their faith and trust in the blood of His Son Jesus as full atonement for their sins, and accept Him as Lord of their life! Jesus is lovingly and tenderly calling each one of us back to Himself so that we can have this "blessed assurance" that is found only in Him! It is my prayer that this will be the "story and sing" of every person listens to this recording, that they can also praise their Savior "all the day long!"
Erin Cross
"...Unto thee will I sing with the harp, O Thou Holy One of Israel. My lips shall greatly rejoice when I sing unto Thee; and my soul, which Thou hast redeemed. My tongue also shall speak of Thy righteousness all the day long..." -- Psalms 71:22-24
*I want to give much appreciation and thanks to my parents, who taught me many of these hymns as a child. These hymns laid a precious foundation in my life and are so dear to my heart now!
*"Take My Life and Let It Be" is dedicated especially to my sister Leah. May this sing always be your life hymn. I love you very much!
*The hymns "Saved By Grace" is played especially for Christy Kenaston and her family. May this song minister to you as you serve the Lord in Africa.
Photo of Erin Cross taken in early 2008.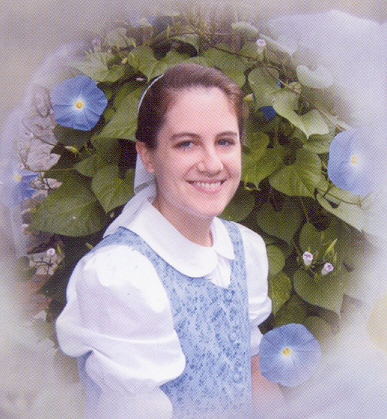 ---