Dena And Joanna Marini -- Beautiful Savior
---
My Comments: These people play music on the same harps that are made by their family. This family makes their living building harps. Each harp they build is "hand crafted" and "custom made". The two oldest daughters, Dena and Joanna Marini, go to many different churches in their local region playing their harps. The younger members of their family also take part in their concerts by playing other instruments they are good at.
I found out about these recordings when their mother mailed me all of their current CD titles as "air play submissions" for Old Christian Radio. After hearing all their recordings, I decided to add all of them to my station's air play library. From there, I made these recordings available for purchase in my online music store. Until now, these recordings were only available for purchase at their concerts, by mail directly from them, or only from local bookstores where they live.
As you listen to their recordings (oldest to newest), you'll notice progressive improvement in their harp playing skills. Their harp playing skills in their earlier recordings are still very good.
---
The message inside the CD cover reads...
"Beautiful Savior" ---strange words the author of this hymn chose to describe the Saviour. Isaiah depicts Jesus quite differently in outward appearance:
" he hath no form nor comeliness; and when we shall see him, there is no beauty that we should desire him. He is despised and rejected of men; a man of sorrows and acquainted with grief: and we hid as it were our faces from him; he was despised, and we esteemed him not." (Isaiah 53:2-3)
Obviously, this hymn writer is looking beyond the physical. He esteems Jesus' beauty above the splendor of all creation. Fair meadows, fair woodlands, "robed in flowers of blooming Spring," as pleasant to look upon as they are, cannot make "our sorrowing spirit sing." And what is this "sorrowing spirit" of which the hymnist speaks? It is the inner man, grieving over the guilt of sin, the fear of alienation from God, and the dread of certain judgment to come. How exceeding beautiful is the sacrificial love of Jesus to such a "sorrowing spirit." To look upon this One who suffered, bled, and died to pay the penalty of sin and reunite man with God, the sparkling stars on high, with all their dazzling majesty, cannot hold a candle to the radiance of our "Beautiful Saviour," to whom our sorrowing spirit sings:
"Truly I'd Love Thee, Truly I'd serve Thee.
Light Of My Soul, my joy, my crown."
--Alex Marini
Count Your Blessings
(1) When Upon Life's billows you are tempest tossed,
When you are discouraged, thinking all is lost,
Count Your Many Blessings, name them one by one,
And it will surprise you what the Lord has done.
-Chorus-
(2) Are you ever burdened with a load of care?
Does the cross seem heavy you are called to bear?
Count your many blessings, ev'ry doubt will fly,
And you will be singing as the days go by.
-Chorus-
(3) When you look at others with their land and gold,
Think that Christ has promised you his wealth untold;
Count your many blessings, money cannot buy
Your reward in Heaven, nor your home on high.
-Chorus-
(4) So, amid the conflict, whether great or small.
Do not be discouraged, God is over all;
Count your many blessings, angels will attend.
Help and comfort give you your journey's end.

Chorus: Count your blessings, name them one by one;
Count your blessings see what God hath done...
"Count Your Blessings"...is dedicated in memory of Ellen Hess (7/3/41--4/1/99), of Gap, PA, who was diagnosed in 1996 with ALS (Amyotrophic Lateral Sclerosis--known as Lou Gehrig's disease). When we went to play our harps for her one evening in December of 1998, Ellen was confined to a wheelchair and could not walk of talk. Before leaving, we asked her if she would have a favorite hymn we could play...she communicated her request with facial expressions to her husband, Carl: "Count Your Blessings." Even though we only met Ellen that one time, we will never forget her testimony to us.
---
Dena and Joanna, now 16 and 14, are continuing their harp playing as part of their home school music program. They have been self-taught for most of their harp career, and enjoy making up new arrangements to familiar hymns on the lever harps that their father built for them.
With thankful hearts, we continue to seek the Lord's direction as Marini Made Harps grows as a family business and ministry.
Dena And Joanna Marini (As pictured on the back of the CD cover)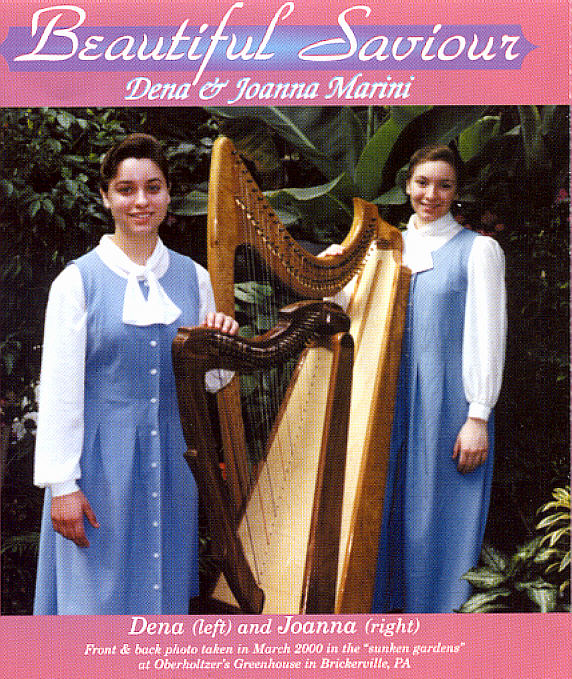 ---