Dena And Joanna Marini -- Be Thou My Vision
---
My Comments: These people play music on the same harps that are made by their family. Their family makes their living building harps. Each harp they build is "hand crafted" and "custom made". The two oldest daughters, Dena and Joanna Marini, go to many different churches in their local region playing their harps. The younger members of their family also take part in their concerts by playing other instruments they are good at.
I found out about these recordings when their mother mailed me all of their current CD titles as "air play submissions" for Old Christian Radio. After hearing all their recordings, I decided to add all of them to my station's air play library. From there, I made these recordings available for purchase in my online music store. Until now, these recordings were only available for purchase at their concerts, by mail directly from them, or only from local bookstores where they live.
As you listen to their recordings (oldest to newest), you'll notice progressive improvement in their harp playing skills. Their harp playing skills in their earlier recordings are still very good.
---
The message inside the CD cover reads...
Be Thou My Vision
As the theme song for this recording, we've chosen, Be Thou My Vision, a fervent prayer by one seeking the grace to "love not the world, neither the things that are in the world." (John 2:15a) Perhaps the greatest challenge before any Christian, the author of this song must have thought long and deep on the sobering words of the Apostle John: "If any man love the world, the love of the Father is not in him." (I John 2:15b) Small wonder he pleads:
Be Thou My Vision, Oh Lord of my heart
Naught be all else to me, save Thou art.
Apparently, well aware of our human tendency to elevate the coveted things in this life - money, fame, pleasures - to the "most high" place of our hearts, the author resolves:
Riches I heed not, nor man's empty praise
Be thou my heritage, now and always.
Thou And Thou only, first in my heart
High King of heaven, my treasure Thou art.
As much as we'd like to believe otherwise, Jesus did say: "Lay not up for yourselves treasures upon earth...but lay up treasures in heaven...for where your treasure is, there will be your heart also."
--Alex Marini
---
Dena(20), and Joanna (18), now graduated from their home school program, continue to develop their skills in music, and have made their own arrangements to the songs on this (their 6th) harp recording. They've included some vocal and other instruments to accompany the harp on this recording, but the harp is still the featured instrument.
We are very blessed by God who led us into this music ministry eight years ago when their father built the first harp for them. We are grateful for how God has gifted the girls with the ability to play & sing so that many are blessed and encouraged through this ministry.
Dena And Joanna Marini (As pictured on the back of the CD cover)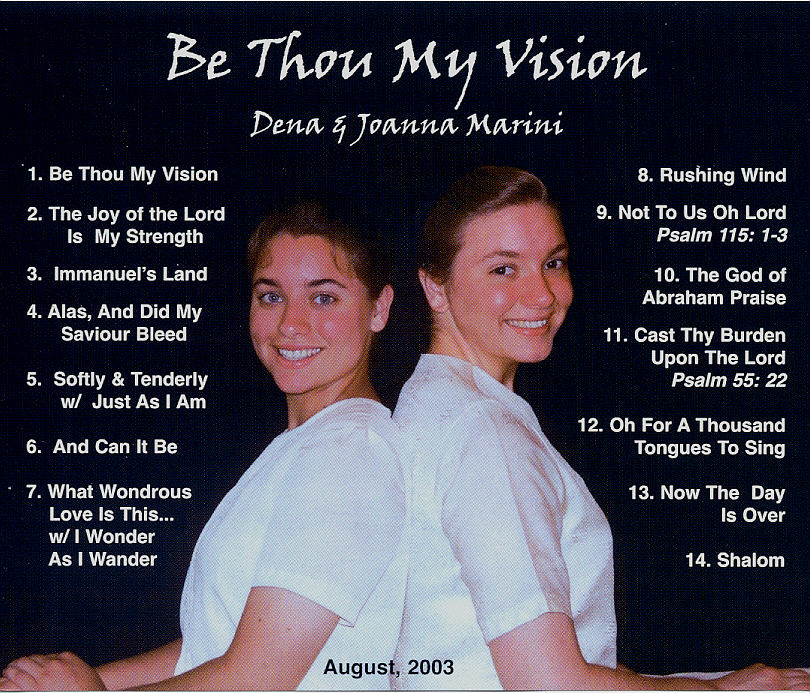 ---